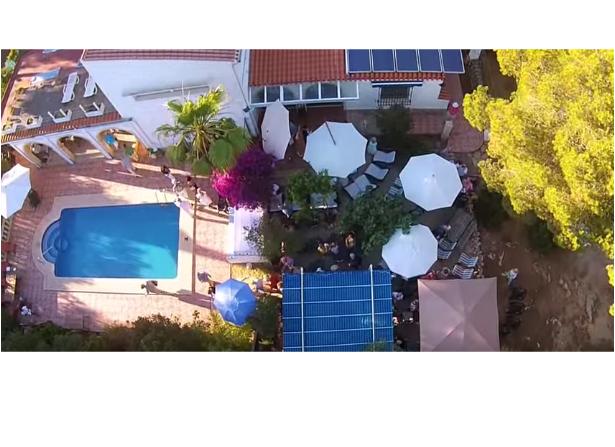 The Arteunita Ensemble, usually performing at the famous Opera House of Valencia, the Palau de les Arts Reine Sofia, visited Jávea for two Momentos de Música concerts. Two beautiful days with 160 people that came out to enjoy these 8 top-level musicians, filling the garden with romantic classical chamber music. Surrounded by truly beautiful acoustics we enjoyed various combinations of viola, violin, cello, bass, clarinet, flute and harp.

Of course the ensemble played The Swan by Saint-Saën on the cello and harp. The ambiance was something special, everything went quiet and still, with the exception of a bird or two that seem to hum along with the music coming from the garden. Sharing these types of moments with our many international guests accompanied by cava, wines and good food is what forms the base of Momentos de Música, a unique atmosphere that is becoming a phenomena here in the Costa Blanca.
Take a look at the video made with a drone flying over the garden during the concert:
During the event we had live recordings and interviews held with Peter and the musicians for the radio, you can enjoy the concerts and interviews here: "Momentos de Musica; classical music speaks any language!"   Newspapers The Costa Blanca Nachrichten, De Week and Hallo featured articles on the concerts.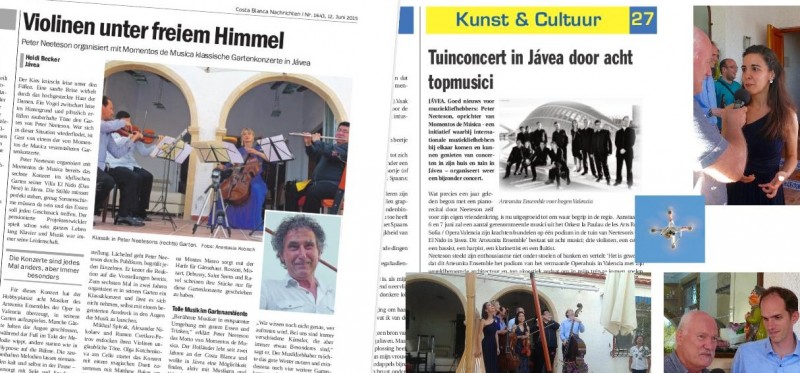 Upcoming events
Momentos de Música is working on the preparations for two upcoming garden concert on Saturday 19 & Sunday 20 September. A selection of 7 professional musicians will play in duo's in a sort of mini-concert-parade format (don't worry, will be explained in the next newsletter). This will include exciting combinations with Spanish guitar, transverse flute, violin, soprano, piano and organ.
End of October or beginning November we will organise two more garden concerts. From December to April we will move from the garden to indoors, for the more intimate house concerts seating up to 40 guests in Villa El Nido, like we did last year with the Dutch pianists Wayenberg & Oei. I am hoping to bring these two top-pianists back to Jávea in the summer of 2016 but this time for a garden concert.
More about the upcoming events will be communicated shortly via our newsletter. Sign-up on www.momentosdemusica.es.
Thanks for the ongoing enthusiasm and see you soon!
Musical regards,
Peter Neeteson – Momentos de Música