—  CONCERTS  CANCELLED  —
Dear guests, even though I had preliminary approval for up to 50 guests per concert in the garden at the moment we started selling tickets for the concerts this coming weekend, all the Momentos de Música concerts have to be canceled.
—
Momentos de Musica starts the new season on 10 & 11 October with garden concerts in "corona style" with
the 
Black & White Keys Duo 
on piano & marimba in Villa El Nido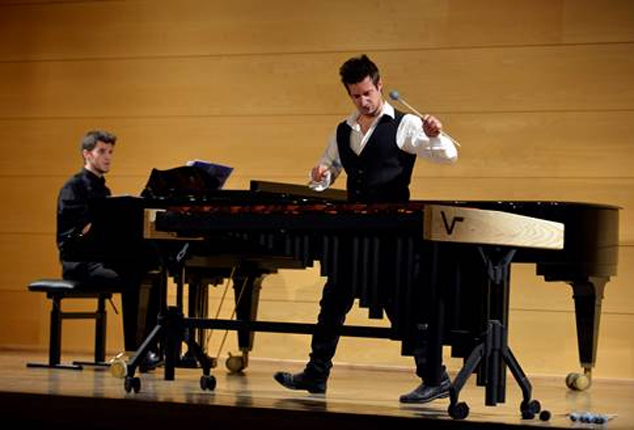 ANDREU SOLER (MARIMBA)  & MIGUEL ÁNGEL CUADRADO (PIANO)

This duo from Valencia has already successfully performed twice at Momentos de Musica.
PROGRAM
On piano & marimba:
II Movimiento del concierto para guitarra y orquesta Aranjuez (Rodrigo)
Suite de la ópera Carmen (Bizet)
Suite nr.3  para cello solo (Bach)
Elements (Soler)
Obertura Guillermo Tell (Rosini)
Libertango (Piazzolla)
Csardas (Monti)
Piano solo:
Asturias (Albéniz)
Rumores de la Caleta (Albéniz)
Piano a 4 manos:
Suite Peer Gynt, Parte I (Grieg)
Due to unknown Corona measures that will be in force in October, we now start ticket sales.
The number of guests per concert is now limited by the local authorities to 50 guests outside in the garden. I will maximise the number to 25 guests per concert only and will organise the same  concert 4 times over the weekend.
The Momentos de Musica concept continues to "enjoy music together with before and after the concert meet & greet drinks with the musicians", no pausa, no catering, only drinks. Please read the Momentos de Musica Corona rules below the form here. We will stay outside in the garden and our corona-rules will be a bit stricter than your usual restaurant experience in Javea.
Because of the logistics around the organisation of these 4 concerts, I do need to know if you are planning to join us for this concert or not. Please do order your tickets asap and do not wait till information about the last corona infection statistics.
Be welcome and order your tickets as usual and please do not wait until the last moment. Ticket: are € 24 incl. drinks (no catering)
CONCERT CANCELLED
I hope you will have confidence that with the below rules we reduce risk of corona-infection as much as possible:
1. Keep your distance at all times. You are required to wear a face mask when you are not sitting on your chair.
2. Disinfection lotions are made available.
3. The maximum guests per concert is 25, so we can guarantee more than 2 meter distance for all the guests.
4. Concerts on Saturday & Sunday open doors at 13.30h with cava, concert starts at 14hr till 15hr without pause, meet&greet 15hr-15:30hr with drinks. Selfservice for drinks per table and keep your glas, there is no catering. The next concert starts the same day at 16hr – 18h.
5. In case of bad weather, we will go inside the house with open windows and doors. Please bring your jacket. Inside we will also keep our distance and wear face masks when you are not seated.
6. If you do not "trust" the situation inside, please call me on that concert day between 11:30 an 12:00 at 634979620. In case you wish to cancel you get you money back.
7.  Of course you will stay home in case of symptoms that may indicate contamination. (Of course, you will get your money back, full refund.)
8. Please use of toilet only 'in case of emergency". Disinfection after each use.