DON'T MISS THIS ATTRACTIVE CONCERT
Olga Kotchenkova (cello) & Vsevolod Dvorkin (piano)
Saturday May 6 &  Sunday May 7
15:30hr in Villa El Nido, Jávea
Book your tickets now below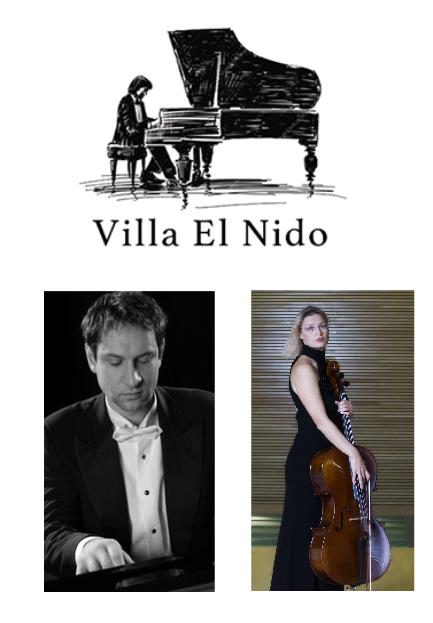 The successful Duo; Olga Kotchenkova (cello) & Vsevolod Dvorkin (piano) previously garnered great enthusiasm from audiences at "Villa El Nido." Olga and Vsevolod have an impressive musical resume and are both affiliated with La Palau les Arts in Valencia. They play duo cello and piano, Vsevolod also plays some pieces of piano solo.
Program
Frédéric Chopin
Introduction et polonaise brillante, Op. 3
Sonata, Op. 65
1. Allegro moderato; 2. Scherzo: Allegro con brio; 3. Largo; 4. Finale: Allegro
*********
Claude Debussy
Estampes, L 108 (piano solo)
1. Pagodes – Modérément animé; 2. La soirée dans Grenade – Dans un rythme
nonchalamment gracieux – mouvement de Habanera;
3. Jardins sous la pluie – Toccate – net et vif
L'isle joyeuse L 109 (piano solo)
Sonata n. 1, L 144
1. Prologue – Lent. Sostenuto e molto risoluto; 2. Sérénade – Modérément animé;
3. Finale – Animé. Léger et nerveux
Clair de lune, L 75 (piano solo)
Camille Saint-Saëns
Please note: there are maximum ca. 35 (inside), do not wait to order your tickets!
Saturday, May 6 & Sunday, May 7 at 3:30 pm
doors open at 3 pm
open bar, catering with service
entrance fee € 45 –
Since 2018 all events of Momentos de Musica is incl. € 2 / ticket to Caritas Javea (www.caritas.org)
Book now below
Tickets are paid in cash at entrance.
Booking online via www.momentosdemusica.es
You will receive a confirmation directly in your Inbox after reservation, also check your Spam folder! Please fill in all fields, including your phone number.
Please fill in your email address correctly, otherwise the confirmation of your reservation via automatic reply will not reach you.
Concerts take place in the renovated (patio) room in "Villa El Nido", spacious and relaxing ambiance with a maximum of about 35 guests.
Any cancellation does not cancel your payment obligation. However, you can pass on your reservation to third parties, with notice to peter@momentosdemusica.es